About us
Avita Assisted Living and Memory Care at Rolling Hills
Who We Are
Avita Assisted Living and Memory Care at Rolling Hills are more than just a senior living facility. It is a home away from home. From the cozy private rooms to the daily activities, we strive to make your time here feel like an extension of life in your own home.
Enjoy time with your family and friends in our bar and grill, complete with a delicious full menu. Catch up with friends at our in-house beauty salon. Or, bring your grandkids in for a fun afternoon of WII bowling in the Boardwalk Theater. Whatever your favorite activity, we have plenty to keep you busy around our bustling indoor Town Square.
We strive to provide activities to keep our residents active and engaged in the community. We've created an atmosphere and a facility conducive to comfort, care, and companionship.
Every section, or neighborhood, at Avita Rolling Hills, represents an area of Wichita and is decorated as such. Upon arrival, you receive a welcome packet that includes your resident handbook and activities calendar to lift you up and provide you with an array of personal enrichment. Feel free to make your apartment your home. Please bring in personal decorations and furniture to personalize your space and become part of our family.
When you move in you will again be greeted by the RN who met with you for your initial assessment. They will assist you to your room and the finishing touches will be made including medications and check-in. You are welcomed on your first day with a complimentary meal for you and your loved ones. They may also make arrangements to stay in our lavish guest room if they are traveling from out of town.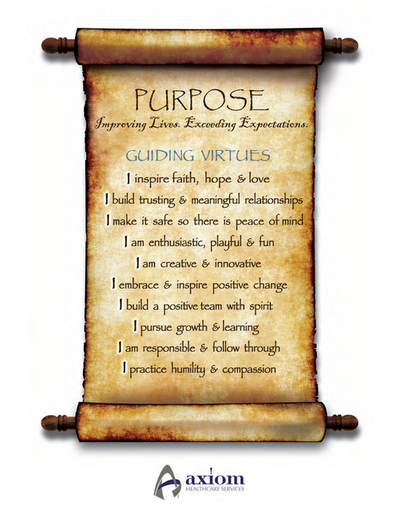 Mission
Our mission and guiding virtues are the backbone for our service and culture. With them we succeed in creating world class community. Each member of our staff works hard to show compassion and create personal trusting relationships with our residents and their families.
The mission of Avita Rolling Hills is to Improve Lives and Exceed Expectations. We accomplish this through our Ten Guiding Virtues: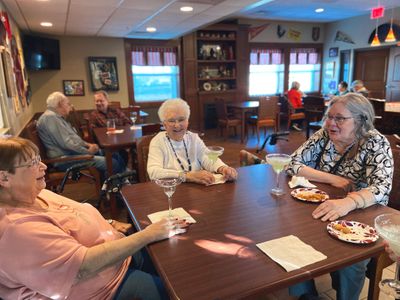 Special Events
Special Events at Avita include various musical performances, holiday parties, clothiers' shows, and fine dining experiences. We also offer educational presentations on a number of topics including health, technology, history, and more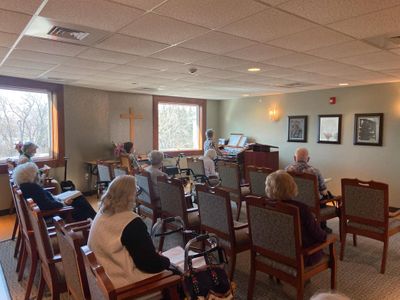 Spiritual Growth Opportunities
At Avita, there are a number of spiritual growth opportunities throughout the week, including two-weekend church services held in our very own chapel. Along with these services, there is a morning Bible study, that meets once a week, and a resident-led men's group, that meets bi-monthly in the evening.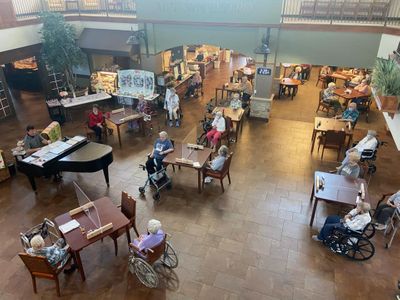 Exercise
The fitness center offers exercise bikes and weights for use at our residents' convenience. Besides this equipment, group exercise is offered throughout the week.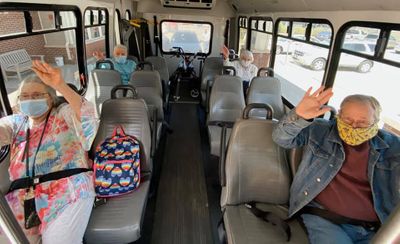 Outings
To coincide with the events at Avita, there are also opportunities to attend events and outings within the community, which include performing arts series, bus tours, and trips to various stores.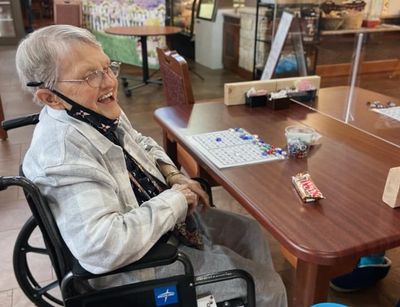 Games and Other Activities
Along with the special events, there are many games and activities that take place on a daily basis. There are opportunities to watch movies and sporting events or listen to another resident teach a skill or share past experiences.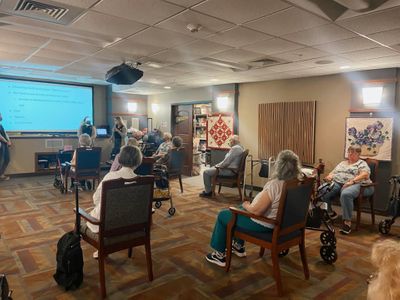 Clubs and Interest Groups
Many of the clubs are started by residents who have common interests. Some of the clubs and groups currently meeting include Book Club, Sewing Circle, and Card Group.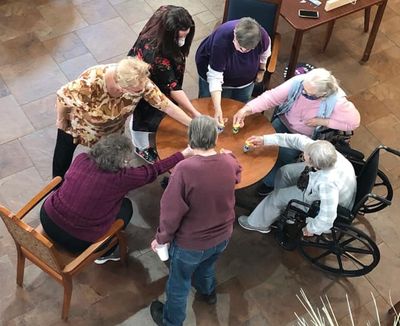 Community Involvement
Building relationships with others in the community is an important part of life. Avita offers an atmosphere where an ever-growing number of these relationships may be formed and developed. Interacting with volunteers and performers from area schools and colleges is just one avenue where this can be seen. Family members and friends are also welcome to spend time with residents, enjoy a meal in the bar, and more.
Senior Home Amenities in Wichita, KS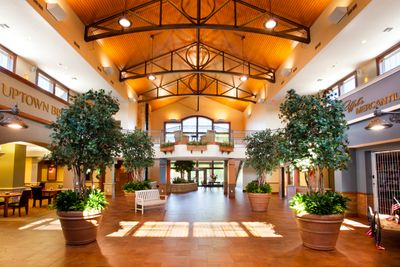 Town Square
In the center of Avita Assisted Living and Memory Care at Rolling Hills is our Town Square which includes the Main Street Bar and Grill, Bella's Beauty and Barber Shop, Boardwalk Theater, Uptown Bistro, Riffel's Merchantile, Avita Wellness Center, and a fully functional post office.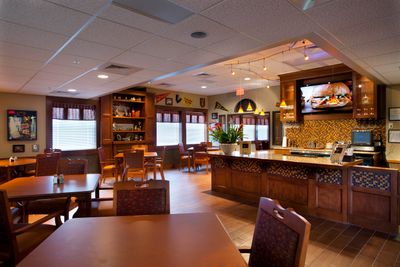 Main Street Bar and Grill
Enjoy alcoholic beverages with snacks during our Happy Hour on Fridays while listening to music. Residents can also enjoy a meal with family or friends by reserving our private dinning room for special events. The bar and grill is open to the public and can be reserved for internal or outside events. The Main Street Bar and Grill also has Internet access.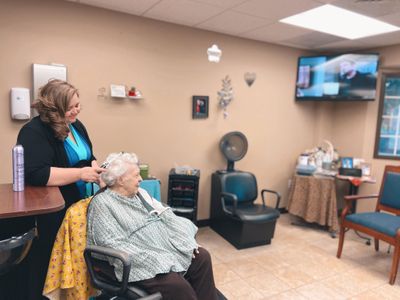 Bella's Beauty and Barber Shop
For the convenience of each resident there is a beauty salon with a licensed beautician offering styling services and salon amenities. Residents can make appointments during the week.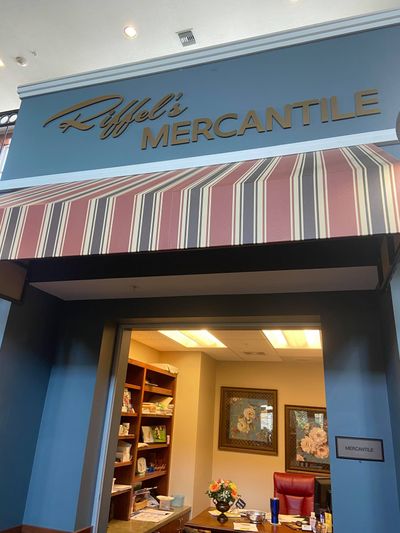 Riffel's Merchantile
Need a tooth brush or a quick snack? Visit Riffel's for the little things you might need. The mercantile is our in house store to make sure you have everything you might need. (Currently closed due to Covid).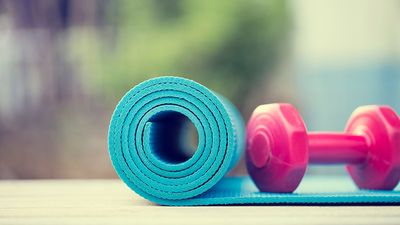 Avita Wellness Center
Our fully functioning fitness center offers weights, cardio exercise equipment, weights, and stretching table. The wellness center also functions as a therapy room where certified physical, occupational, and speech therapist come in to work with residents.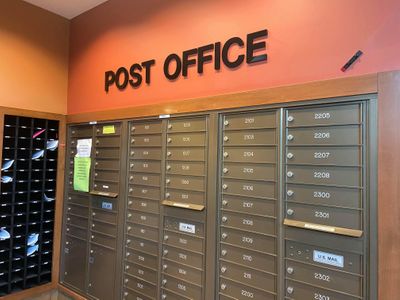 Post Office
Our post office is serviced by the USPS and functions as a full service post office for your convenience. Mail and receive letters just like a normal post office.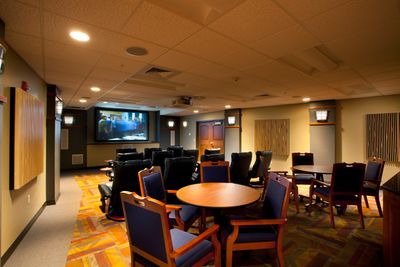 Boardwalk Theater
Our in-house movie theater features a large theater style projector screen that can be used for movies, Wii games, Netflix, and more. The room includes 16 large comfy lounge chairs perfect for watching movies. It can seat up to 55. The room also includes a full kitchen which is used for cooking demonstrations and parties held in the theater room. Outside guests and residents alike can reserve the Boardwalk Theater for personal events including birthday parties, baby showers, business meetings, or anything else.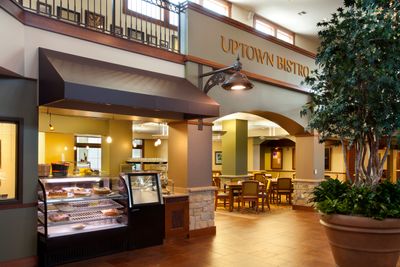 Uptown Bistro
Residents enjoy daily meals in our lovely main dining area.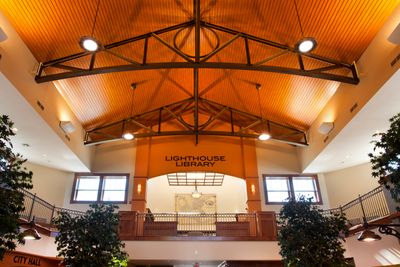 Lighthouse Library
The fully stocked library includes books from multiple genres organized by a librarian. Check out a book just like you would from any public library. Enjoy a good book in one of the library's cozy chairs next to the fire place. Relax and enjoy the beautiful skylight overhead.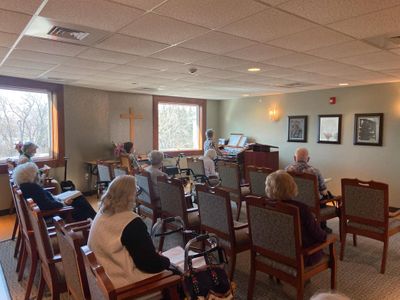 Divinity Chapel
Our beautiful private chapel seats approximately 35 and is available as a private meeting space. Weekly Services are held in the nondenominational chapel.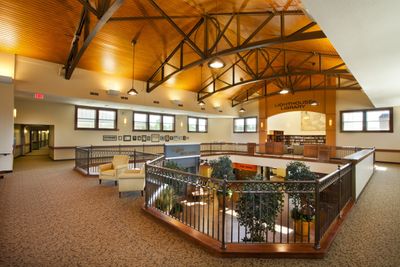 Walking Track
The second floor of the Town Square features a circular walking track perfect for a stroll with friends or a powerwalk to help stay fit and active.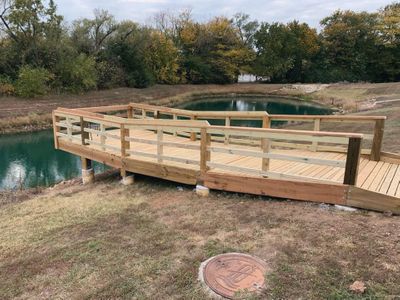 Outside Amenities
We have a large pond with a fountain in the back. The Memory Care has two courtyards off each of our solariums. There are additional courtyards off the dining room and one large courtyard off the Town Square which our patios open up to. Enjoy a road that circles the entire campus perfect for group or individual walks on nice days.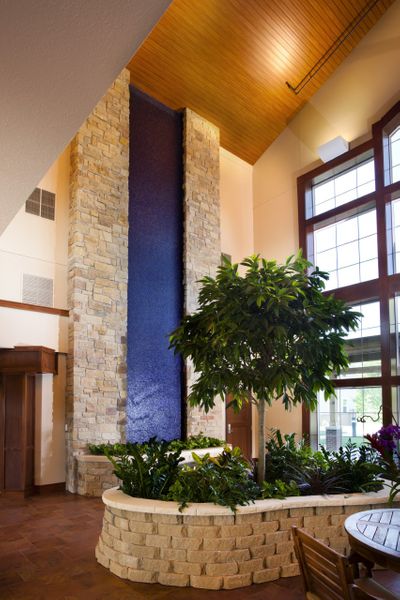 Water Wall
Enjoy our beautiful 26 foot water wall feature in our mail lobby.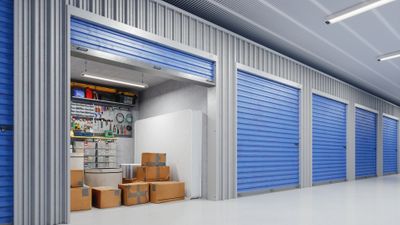 Storage
We have garage and private storage units available for use by residents.
Sign Up For Our Newsletter